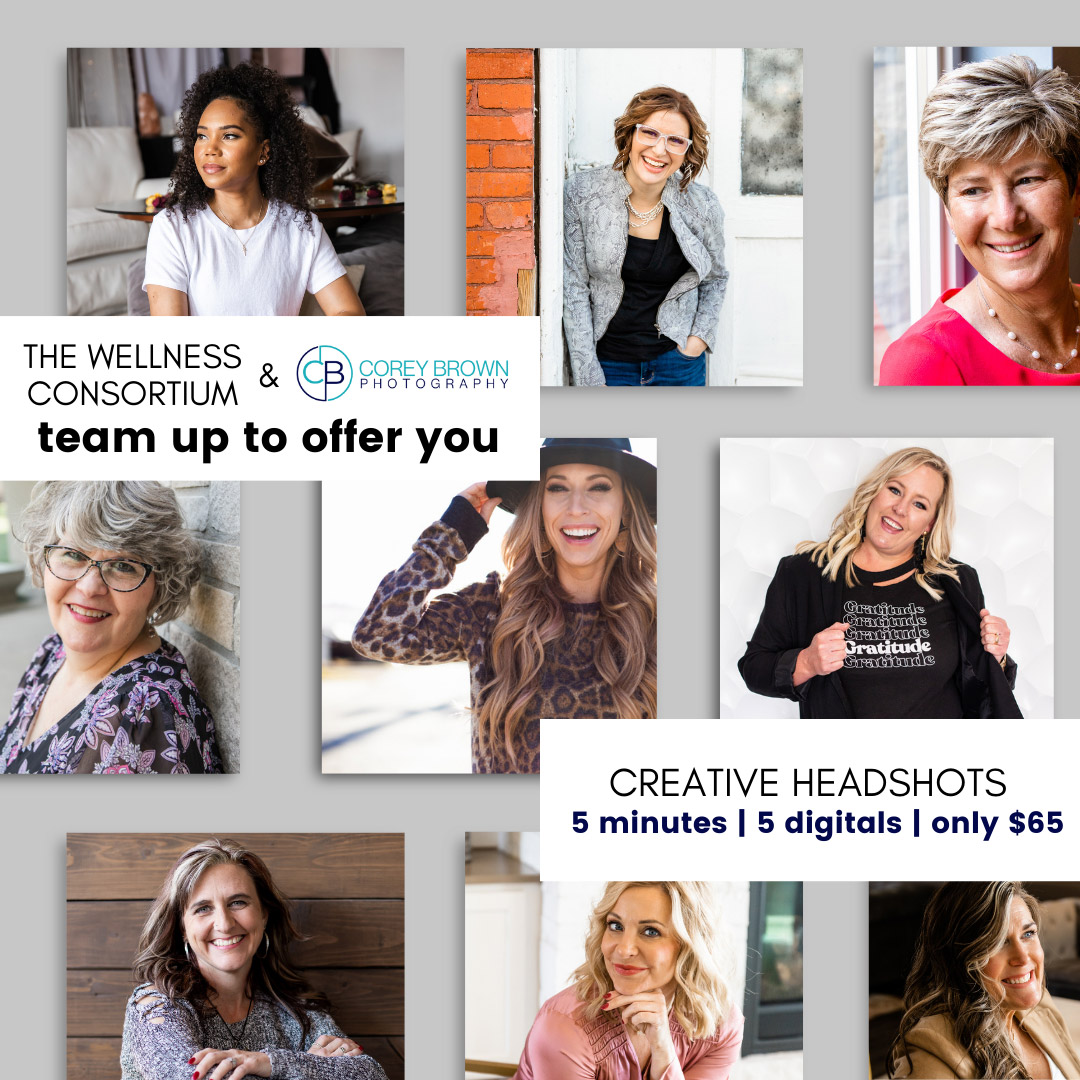 Do you need updated headshots? Are you looking for something MORE professional, MORE creative and with a few MORE options?
The Wellness Consortium + Corey Brown Photography are teaming up to offer a Creative Headshot Event just for YOU!
We know you're busy, so we're making it convenient by having the sessions in conjunction with three of our June Wellness Consortium meetings. Choose your location, join us for great networking, and get your photo shoot before or after. Easy, fun, and efficient!
Your Creative Headshot Session includes:
1 outfit
5 minute individual session at one predetermined location
5 digital downloads
**Special Annual WC Member Pricing: Only $65!**
Non-member Pricing: $85
RECOMMENDATIONS:
Wear your brand colors or neutrals (avoid brand names or sayings on clothing unless it's brand specific)
Wear clothing you LOVE and are comfortable in
Bring any props specific to your industry that we could easily incorporate, such as author: books, nutritionist: colorful salad, yoga instructor: yoga mat, etc
Bring your phone, laptop and/or tablet and if applicable to you: a notebook & pen.
BONUS SUGGESTION:
IF you want to come fueled with ideas you know you'll LOVE: search your industry for ideas and inspiration! Create a Pinterest board with photos you like and would love to recreate in your brand style. (Example: If you are a nutritionist, search "nutritionist brand photos" or "nutritionist brand photo shoot") *This is not mandatory but extremely helpful with our short session time together.
Spots are limited, so SIGN UP today:
June 14th 7:30-8 and 9-11 am: Shawnee at Your Wellness Connection 7410 Switzer Rd Shawnee KS 66203
June 27th 4:15-5:15 pm: NKC at Sacred Chiropractic + Acupuncture 4173 N. Mulberry Drive, North Kansas City Mo 64116
June 28th 8-9 and 10:15-10:45 am: Lee's Summit at Unity Village Coffee Shop, 700 Unity Way Lee's Summit MO 64086
This event is open to ALL!
Annual Wellness Consortium Members receive special discounted pricing as part of your annual membership benefits.
If you are are non-member…
Under the 'Are you an annual Wellness Consortium member?' question below, make sure to

select the 'no'

option to avoid having your appointment cancelled.
If you are new to our group and would like to also

check-out one of the event connected consortium meetings at no cost

, email Jamie Durner to receive a guest registration code and further details.
Looking for new ways to inspire your team to be well?
Download your free copy of Well-Being Tips Every Leader Should Know to gather inspiration, guidance, and tips for leaders wanting their teams to step into their best lives.