The Powerful Influence Financial Health Has on Finding Your Purpose
Guest: Whitney Bartelli | Season 10, Ep. 410
"My passion was to find a career that I felt like I was helping people." – Whitney Bartelli 
Money can enable us to do the things we love – take vacations, buy things we want, and even help us celebrate the big milestones. However, money can also block us in ways, too. When we are financially unwell (in debt or unable to save), anxiety builds up in our body – causing us to miss some of life's greatest moments because we're worried about the future – even tomorrow. In today's episode, Dr. Michelle Robin invites Whitney Bartelli to share more about those barriers that money can create in our life – and how it can even derail us from discovering our purpose in life. She will share a few stories about how she fell into her purpose, but also why having a financial plan was crucial to her getting to this point in her life. By the end of the episode, she will provide some small steps someone can take to get on a financially healthy road – and ultimately, get that much closer to living their best life and fulfilling their purpose. 
About Today's Guest: 
Whitney Bartelli serves as the Chief Marketing and Strategy Officer at CommunityAmerica Credit Union, overseeing the areas of brand strategy and brand growth, content strategy, social and digital engagement and management, product development, member/corporate communications and community engagement. Whitney leads high-level strategic, data-driven initiatives that directly impact sales growth and each line of business at CommunityAmerica. With a people-helping-people focus, Whitney's teams are focused on elevating CommunityAmerica's brand and connecting Kansas Citians to its mission of helping members to achieve financial peace of mind. 
1. CommunityAmerica Credit Union is insured by NCUA.
2. Profit Payout. Dividend is discretionary and approved annually by CommunityAmerica's Board of Directors. Amounts advertised are representative of actual dividends paid in 2023. Dividend is not guaranteed and may vary based on criteria established by CommunityAmerica Credit Union and the total amount allocated by the Board of Directors each year. Not everyone receives a dividend and member must be in good standing and meet other criteria on processing date to qualify. Dividends are reported to IRS and a 1099 form will be issued at year-end. Any applicable taxes are the responsibility of recipient.
3. All loans subject to approval.
4. High Interest Savings.  Top of market according to S&P Global Deposit Ranking Report – Kansas City Metro Area as of January 19, 2022. First Tier: 3.92% – 4.00% APY from $1.00 – $1,500, if First Tier qualifications are met. Second Tier: 0.025% APY on $1,500.01 or more, and on balance if First Tier qualifications are not met. The account requires a $1 minimum opening deposit. The Annual Percentage Yield (APY) shown is effective as of 03/01/2021, unless otherwise noted. Rates are variable and may change without notice after the account is opened. Fees could reduce earnings on this account. Balances up to $1,500 will earn first tier APY when 'Qualifications for cash back'. Each statement period that Qualifications are met after the account opened, the first tier APY will be applied to the next statement period. Due to compounding, interest earned may push balances into next rate tier, causing an APY change. Please see rate page for range. If Qualifications not met, the first tier APY will discontinue and will revert to the credit union's base rate for Savings accounts until 'Qualifications for cash back' are reestablished. Balances of $1,500.01 or more will earn the credit union's current applicable base rate for Savings accounts. Limit one High Interest Savings account per member. Business, IRA, and Minor accounts not eligible for this product. Qualifications for cash back: The membership account number tied to the High Interest Savings account must complete the following: Enrolled in eStatements; Monthly direct deposit of at least $250 posted to one deposit-suffix; 15 posted point-of-sale debit card transactions per month to a single checking-suffix; OR Enrolled in eStatements; 25 posted point-of-sale debit card transactions per month to a single checking-suffix. Transactions exclude refunds, credits, fees, pre-authorizations and ATM transactions.
5. Deposit products insured by NCUA include: Checking accounts, savings accounts, money market accounts and certificates of deposit (CDs)
6. Wealth Management by CommunityAmerica: Securities and advisory services offered through Copper Financial Network, LLC ("CuFi"), Member FINRA/SIPC. CuFi is a SEC registered investment adviser. CuFi is a wholly-owned subsidiary of CommunityAmerica Credit Union. Wealth Management by CommunityAmerica is a marketing name used by CuFi. For important disclosures from CuFi, including our Form CRS, please visit here. Investment and insurance products, including annuities:
| | | | |
| --- | --- | --- | --- |
| Are Not Deposits | Are Not NCUA or otherwise Federally Insured | Are Not Bank Guaranteed | May Lose Value |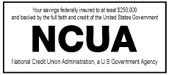 Welcome to Your Holistic Networking  & Business Support Group

A huge thank you to our sponsors!
Looking for new ways to inspire your team to be well?
Download your free copy of Well-Being Tips Every Leader Should Know to gather inspiration, guidance, and tips for leaders wanting their teams to step into their best lives.