We are passionate whole-person providers who believe all things are possible with just one small step. We're here to help simplify wellness in a complicated world.
Our passion is sharing what we learned and now live.
Our mission was founded on a very simple idea – we want to see people come fully alive.
At Small Changes Big Shifts, we simplify wellness by recommending small changes people can make that ultimately create the biggest shifts in their lives.
There comes a time when we realize something is missing or out of balance. We go through the motions of life – sometimes quite successfully – but we continue to notice some empty or unfulfilled places inside of us. These places prevent us from feeling happy and complete as a person, but we may have a difficult time pinpointing what is needed so we can finally step into our best lives.
Our team walks, lives, and breathes every aspect of what we share because we, too, have been down this road. We understand what it's like to be searching for something to make us feel healthier, happier, and more alive – and now that we've discovered the simple framework to do so, we're guiding others to do the same.
Our aim is to simplify wellness and what that whole-person approach looks like for people.
What we've learned over the years is that people need community along the journey. It's why we love working with companies, organizations, and schools – the community is already built-in and the results are far more impactful with support of others who are all on the same journey of discovering their best selves.
We can't wait to meet your team and see their story unfold!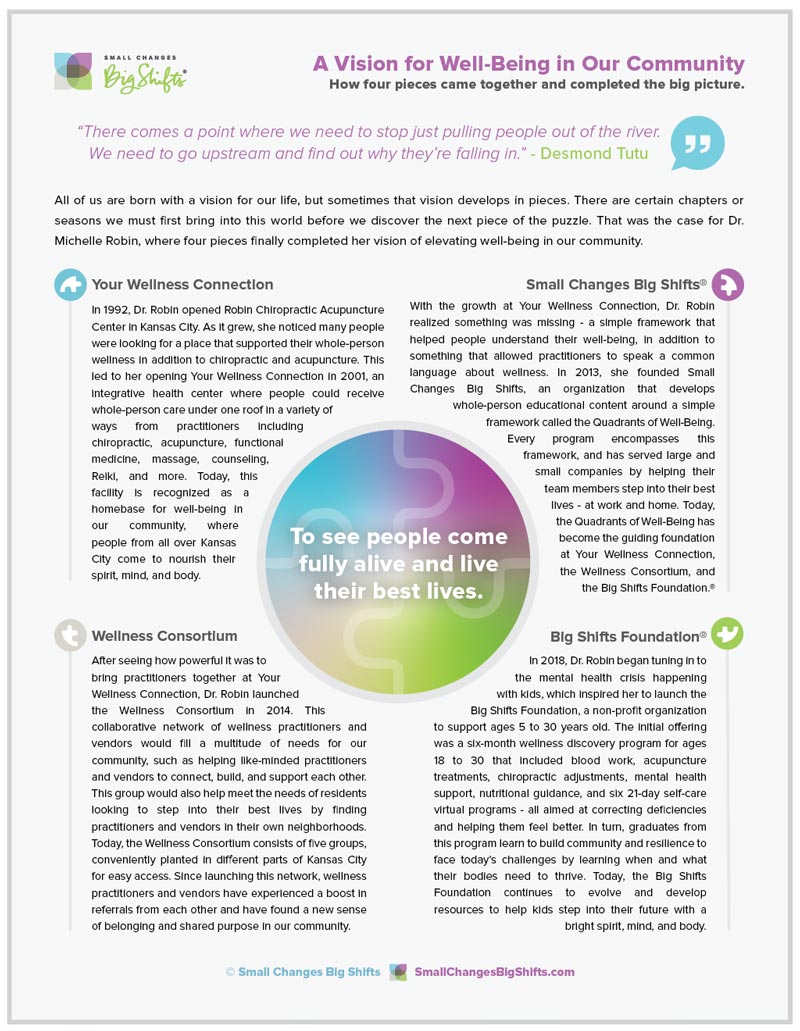 A Vision of Well-Being for
Our Community Handout
What They're Saying
Their Stories, Our Character
Working with the Small Changes Big Shifts team the past four years has been impactful, fun, and simple. Their programs change lives by meeting people where they are in their well-being journey. By providing education, support and resources, our associates have been able to take steps towards better health in a way that makes sense for them individually. This aligns with our goal to enhance the well-being of our people by joining them on their journey to enjoy healthy, energetic lives.
We appreciate the unique Quadrants of Well-Being framework through which we were able to simplify our focus on whole person well-being in a consistent way yet keep things fresh each year with a variety of different topics. I recommend Small Changes Big Shifts for any organization looking for a holistic approach with a structure that helps people to be healthier by finding their best next step.
When people think about living their best lives, a variety of vivid images pop to the forefront. But often times, we get stuck turning that vision into action. Where to start, how to start, and determining in what order of priority can feel overwhelming. We all know that when we can be our best, we can be better for our families, our teams, and our community. The experts at Small Changes Big Shifts have mastered the roadmap to help people from all walks of life, live their best life.  From healthy eating, being more active, finding time to do what matters most, creating better sleep habits, improved boundaries, having fun, making stronger connections, and considering the legacy you want to leave behind, working with this team leaves you empowered and equipped with the tools to make small steps that will create big impact in your life. Put the odds in your favor – it's amazing what just one small step can do!
If you are looking for a company that genuinely cares about your team and building success around well-being, Small Changes Big Shifts is for you!
We started our wellness program as a way to show our workforce that they are seen, heard and cared for beyond the work they do. Small Changes Big Shifts came alongside us with effective resources, accessible support and clear communication way beyond our expectations. Their programs are encouraging, doable and helpful. Not only is our team coming to work feeling more refreshed, intentional, and ready to face the day – but our relationships have deepened with greater accountability so people feel less alone on their wellness journeys. The Quadrants of Well-Being structure has built a bridge for our team and we have made true progress on our individual and team goals.
The Small Changes Big Shifts team is all about heart, energy, and community. We were looking for someone who could help us understand today's challenges, but also steer our team in an energetically positive direction. Dr. Michelle Robin was a true ray of light for us, and we later heard everyone felt more hopeful, positive, and excited to reconnect as a team. They help organizations like us see the best of who we already are, and the better of who we can become. Our team walked away feeling propelled forward in the best way. 
We were looking for whole-person presenters for our wellness fair that would really 'click' for our team – and Small Changes Big Shifts with their bit-size tips and fun, engaging approach to behavioral goals was exactly what we needed. From a corporate wellness standpoint, our number one priority is focusing on Whole Person well-being.  If this is important for your company or organization as well, Dr. Robin brings that perspective and the great content to support what it's like to feel whole in wellness – and ultimately, your life – and how to get in the driver's seat. 
Dr. Robin is a ray of light in the wellness industry and we are so thankful for her gift that she share with our world! Since bringing her on board to coach and educate our members regarding healthy living, NACWAA's programming has reached a new level. Her passion, energy, spirit and vitality show up in all that she does. She is fit to lead and so are we! Much gratitude to you for your work!
As a small business it's been a challenge to establish a wellness program without corporate resources. Our team travels extensively. We wanted to create a culture of wellness and give our team the knowledge and tools for health and well-being at home, in the office and on the road. Dr. Robin provided a comprehensive program customized for us and it is exceeding our expectations. She and her team partnered with us to identify our goals and define a plan of action. Best of all, Dr. Robin kicked off our program as the keynote speaker at our staff retreat. She received outstanding ratings and feedback from our associates, leaving people motivated and anxiously awaiting next steps, and eager to join our new official wellness committee.
Dr. Michelle Robin is truly a voice for wellness.   I had the opportunity to introduce Dr. Robin to my team during a period of rapid change for our organization.  We all know that change can initiate high stress.  Dr. Robin was able to remind my team to "listen" to their bodies; to "rest" their minds; and to "nurture" their spirits by providing practical and applicable practices each day.  In doing so, there has been a positive "shift" in the workplace.  Her theme of "small shifts; big change" truly resonates.  Our associates are our greatest asset as well as our competitive edge and with Dr. Robin's guidance and support, our team is "healthier" than ever.
As a Wellness coordinator, Dr. Robin's team is one of my key referrals because I know people click with the teachings and consistently find value in the holistic resources. Dr. Robin is no hype – everything she provides is all valuable and once you hear the material and approach, you cannot get enough of it. When people feel good, they make better decisions all around in in many areas of self-care. This team provides the feel-good results in a compassionate way that my team are looking for.
We are so thankful to Dr. Robin and her team for teaching us simple, holistic tools to enhance our lifestyles both physically and mentally. From minor adjustments to major shifts, Dr. Robin's team does a wonderful job at connecting and strengthening the well-being of our staff.
Over the past two years, Michelle Robin has worked with both the Calgary and Denver Women Presidents Organization Chapters, as well as many of my clients. She has been instrumental in helping them to significantly enhance their health and lives. She is an outstanding speaker of influence, the most informed and gifted wellness expert I have ever had the opportunity to work with.
Looking for new ways to inspire your team to be well?
Download your free copy of Well-Being Tips Every Leader Should Know to gather inspiration, guidance, and tips for leaders wanting their teams to step into their best lives.